Syntax
DOT [xcoordinate ycoordinate]
Explanation
DOT prints a dot at the point determined by its inputs. The color of the dot is printed in the current pen color.
DOT requires a list of two numbers as its input. Since DOT does not evaluate the contents of its input list, the list must contain two numbers. Use SENTENCE to compose the list as an argument for DOT if using variables for the X and Y coordinates.
Examples
TO RANDOM.DOTS :COUNT :AREA
REPEAT :COUNT [DOT SE RANDOM :AREA RANDOM :AREA]
END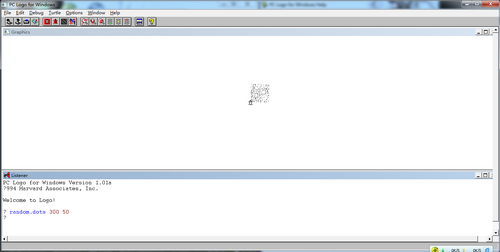 ? RANDOM.DOTS \
? 300 50
?
This procedure call cause 300 dots to appear randomly in the quadrant defined from 0 to 50 turtle steps in both the X and Y directions.