Syntax
HALT name
(HALT name name name ...)
(HALT)
Explanation
HALT stops the execution of any running background procedure. It input is the name of the procedure to be stopped. Optionally, you can supply more than one name. If HALT is used without inputs, all running background procedures will be stopped.
See also LAUNCH.
Example
The procedure below will send turtle 1 to a random location on the screen every time it is called. If this procedure is installed as a background procedure, the turtle will creep along the screen while letting you enter commands and other procedures.
TO CREEP
LOCAL "TELL.LIST
MAKE "TELL.LIST WHO
TELL 1
SETPC 2 ST
SETH HEADING + (RANDOM 60) - 30
FORWARD RANDOM 20
TELL :TELL.LIST
END
? LAUNCH "CREEP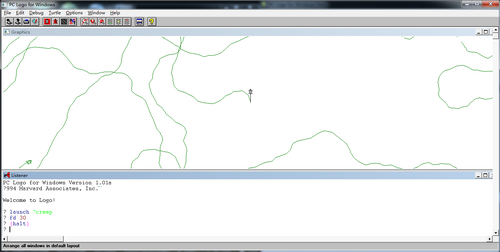 ? FD 30
? (HALT)
Ad blocker interference detected!
Wikia is a free-to-use site that makes money from advertising. We have a modified experience for viewers using ad blockers

Wikia is not accessible if you've made further modifications. Remove the custom ad blocker rule(s) and the page will load as expected.