Syntax
HOME
Explanation
HOME moves the turtle to the center of the screen, points the turtle straight up (HEADING 0), but does not clear the graphics screen or alter the pen state.
Example
TO HEART
REPEAT 10 [FD 5 RT 18]
REPEAT 22 [FD 3 RT 3]
PU HOME PD
REPEAT 10 [FD 5 LT 18]
REPEAT 22 [FD 3 LT 3]
HT
END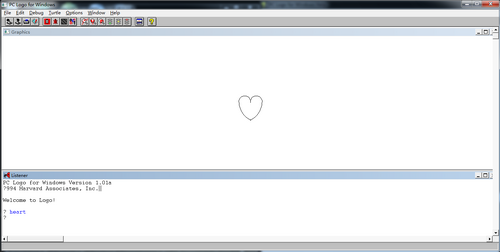 ? HEART
?
Ad blocker interference detected!
Wikia is a free-to-use site that makes money from advertising. We have a modified experience for viewers using ad blockers

Wikia is not accessible if you've made further modifications. Remove the custom ad blocker rule(s) and the page will load as expected.