Syntax
SETHEADING number
SETH number
Explanation
SETHEADING turns the turtle to the degree position specified by its input. Positive numbers turn the turtle clockwise.
SETHEADING turns the turtle according to the direction of the screen and not the current heading of the turtle. SETHEADING 0 always heads the turtle straight up despite whatever direction it pointing.
To output the turtle's heading, use HEADING.
Example
TO NAUTILUS
RT 5
FORWARD HEADING
BACK HEADING
IF HEADING < 130 THEN NAUTILUS
END
This procedure slowly moves the turtle around, drawing longer lines as the heading increases.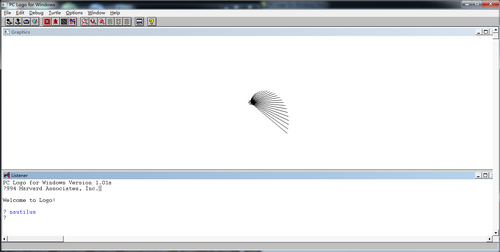 Ad blocker interference detected!
Wikia is a free-to-use site that makes money from advertising. We have a modified experience for viewers using ad blockers

Wikia is not accessible if you've made further modifications. Remove the custom ad blocker rule(s) and the page will load as expected.