Syntax
STAMPOVAL number number
(STAMPOVAL number number "TRUE)
Explanation
STAMPOVAL draws an oval around the current turtle(s) with a radius of the number of turtle steps in its first input in the horizontal direction and the number of turtle steps in its second input in the vertical direction. STAMPOVAL draws a circle if the two inputs are equal.
If STAMPOVAL, its inputs, and the value TRUE are all enclosed in parentheses, the oval drawn is filled with the current pattern in the current pen color.
See also STAMPRECT.
Example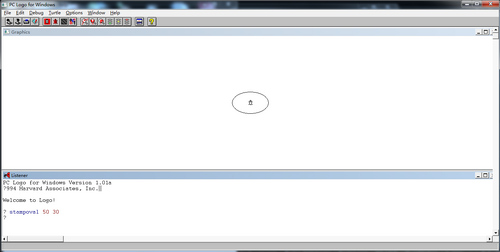 ? STAMPOVAL 50 \
? 30
?
Ad blocker interference detected!
Wikia is a free-to-use site that makes money from advertising. We have a modified experience for viewers using ad blockers

Wikia is not accessible if you've made further modifications. Remove the custom ad blocker rule(s) and the page will load as expected.